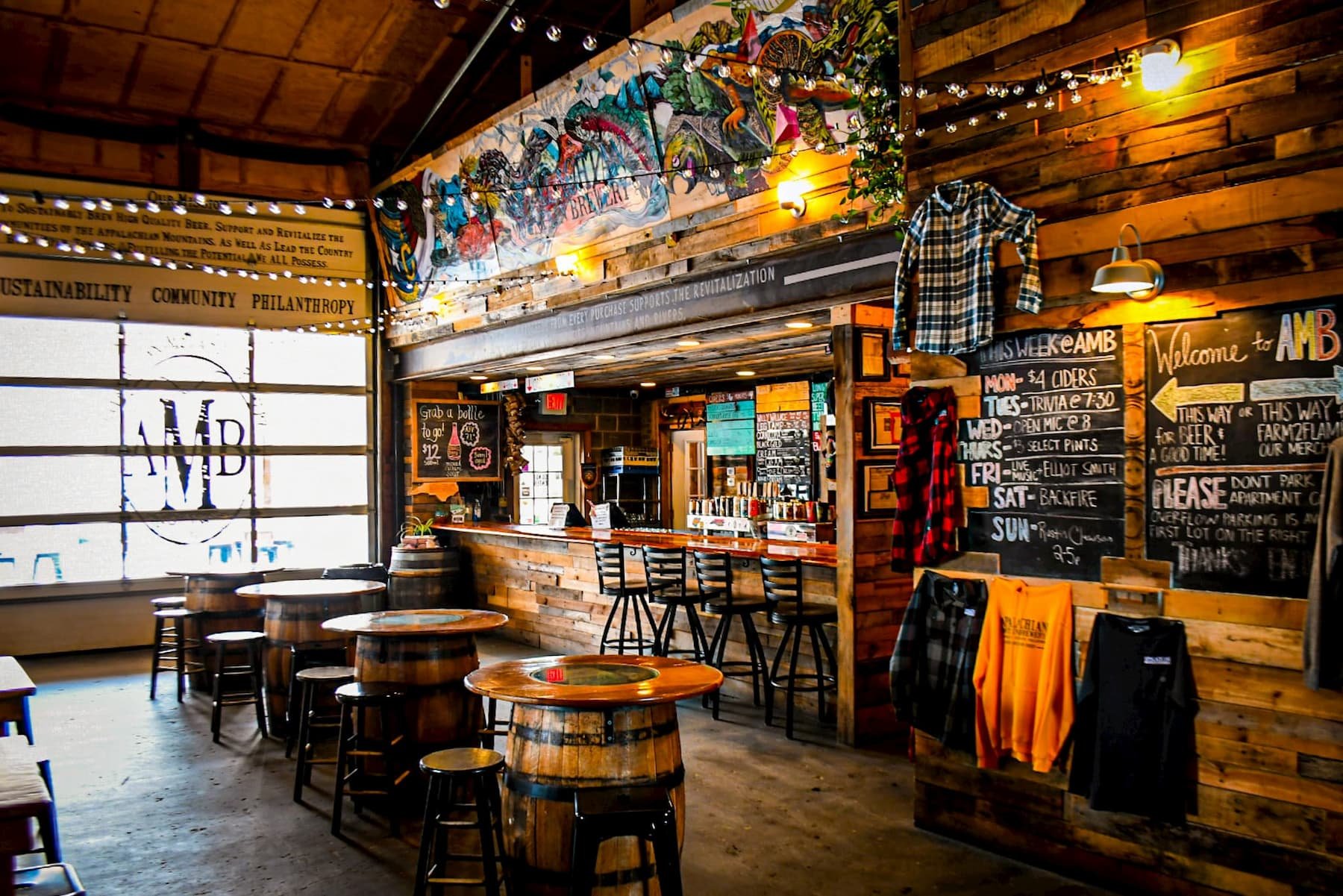 THE PUB
Now On Tap | Beer
Updated 12/4/23
Long Leaf IPA
7.1%
American IPA
An ode to the Old North state and proudly taking its name from the Long Leaf Pine. Long Leaf IPA, a classic IPA with citrus piney aroma and resinous character from bold, hopping inspired by North Carolina's Long Leaf Pine. This month, for every pint sold, we'll donate a dollar to the Longleaf Alliance.
Boone Creek Blonde
4.9%
Blonde Ale
GABF and World Beer Cup Gold Medal Winner. Clear, golden in color. Biscuity aroma layered with earthy and citrus notes. Slightly sweet, bready flavor with hints of toasted cereal. Low bitterness, medium body.
Hop Rain Drop
6.5%
American IPA
Inspired by the southern Appalachian's temperate rain forest, this brew is perfect for sitting on a covered porch, listening to the thunder and rain come in. It's a modern IPA. Light in color and body with heavy fruit notes of mango, peach and papaya. All balanced by a friendly hop bitterness.
Duivel's Chaco
6.6%
Belgian IPA
With its pale golden hues and medium body, this Belgian IPA dances on the palate with notes of cloves, bananas, and hints of citrus and dried stone fruit. Hop: Strata, Mosaic, Chinook
Low & Hazy
4.1%
Hazy IPA
Inspired by the low and hazy clouds that roll through the Southern Appalachian Mountains, Low & Hazy is a full-flavored hazy IPA with tropical flavor with notes of stone fruit, grapefruit, mango, and pineapple.
Pine By Me
6.8 %
American IPA
Brewed with fresh Spruce Tips. A medium-bodied IPA with mild bitterness and a piney, resinous finish. Hop: Citra, Centennial, Warrior, Simcoe
Blood Orange Wheat
5.8%
Wheat Ale
A sip of Summertime! Brewed with Blood Oranges and locally sourced malt, Blood Orange Wheat is a light-bodied brew with low bitterness and moderate sweetness- the perfect companion for warm weather and easy drinking!
High Fallutin'
11.8%
BBA Imperial Stout
Full bodied imperial stout aged in bourbon barrels for four months. Dark Chocolate with hints of vanilla on the nose.
Mountain Man Brunch
4.3%
Brunch Porter
Collaborative Beer brewed with Green Man Brewery and featuring cinnamon sugar donuts from Vortex Donuts (Asheville, NC), Ethiopian coffee from Espresso News (Boone, NC), Cacao nibs from French Broad Chocolate (Asheville, NC) & whole Tahitian vanilla beans! Light bodied with a creamy sweetness
Down South
4.2%
American Lager
A crisp and crushable porch drinking craft lager. If a beer could say "Cheers Y'all" this would be the one talkin'. GABF gold medal winner.
Haze Maze
7.6%
Hazy IPA
Straw colored hazy IPA with a dry finish and big tropical fruit aroma.
Fresh Hop Strata
5.9%
Fresh Hop IPA
A modern IPA brewed with fresh, whole-cone strata hops. Golden in appearance. Berries and currant on the nose. Light body with moderate bitterness.
Spoaty Oaty
5.4%
Pale Ale
We're bringing back a longtime favorite! This classic Pale Ale is known for being well balanced and true to tradition, with its deep golden color and hop-forward malty flavor. Brewed with Citra Cryo, and Amarillo.
Trippy Haze
10%
Triple Hazy IPA
A big ol juicy haze bomb! Surprisingly easy drinking for such a big beer. Fresh tropical fruit aromas followed by a juicy and slightly tart mouthfeel with a lingering mildly bitter finish.
Straight outta the 828
4.5%
Amber Lager
Light pine mingles with toasty caramel aromas in this rich copper colored lager. Don't be deceived as the light body and flavor result in a slightly sweet, flavorful and crushable lager.
Breakfast in Bogota
4.2%
Coffee Lager
As a tribute to our Founders' roots and the homeland of their ancestors, our Helles is a traditional take on this German style lager. Brewed with floral German hops and balanced with a touch of malt sweetness, Hochland has a mild hop bitterness and bready malt quality perfect to toast the incoming fall weather of the High Country or "Hochland" as they say in Deutschland. Prost!
Honeydew Honeysuckle
5.3%
Wheat Ale
Our new Wheat Ale with honeydew melon and honeysuckle. Southern Summers wouldn't exist without potlucks and porch-side hangs. This refreshing wheat ale with the flavor of fresh cut melon and a subtle hint of honeysuckle is the perfect addition to the table spread or porch-view.
Royal Pumpkin Masquerade
8.5%
Imperial Pumpkin Ale
Imperial pumpkin ale with pumpkin spices. Clove notes with herbal and earthy notes. Medium light body, with a balanced bitterness.
Czech One, Two
5.9%
Pale Czech Lager
A classic Czech Lager. Deep golden straw in color. Malt forward, biscuity aroma and flavor.
Flat Pick
5.8%
Dry Hopped Lager
A fresh, unfiltered Appalachian lager made with local malt from Riverbend in Asheville, nc. Golden straw color, no haze. Mild floral/grassy aroma. Light body, dry and medium bitterness
Freshie Fresh
6.2%
Fresh Hop IPA
A modern IPA brewed with fresh, whole-cone Idaho 7 hops. Golden in appearance. Dank citrus and stone fruit on the nose. Light body with moderate bitterness.
Wee Lit
6.8%
Scottish Ale
This full-bodied scotch ale delivers a rich and malty profile with a slightly sweet caramel finish.
Golden Nugget
9.0%
Belgian Tripel
This light in color Belgian ale showcases a bubble gum, clove-like aroma from the use of Belgian yeast. Low sweetness, medium-low bitterness.
Something Sour this way Plums
8.4%
Sour
Sour Ale Brewed with Plums
Now On Tap | Cider, Seltzer, & Hard Sweet Tea
Southern Apple
5.0%
Hard Cider
Inspired by our Appalachian Mountain Orchards bursting with unique apple varieties, Southern Apple is a classic Semi Dry cider that brings you that fresh picked experience like you're coming right off of the orchard. Crisp, clean, smooth dry and crafted to be incredibly sessionable, our Southern Apple cider makes for good times with friends all year round.
Southern Belle
5.0%
Hard Cider
Semi-dry peach hard cider.
Momo Yuzu
5.8%
Fruited Cyser
Collaboration with Stardust Cellars Wilkesboro, NC. Cider/Mead hybrid with peaches, yuzu and NC Honey. Collab with. Golden in color with a slight haze. Big peach aroma with hints of apple. Light body, tart and juicy with a bit of residual sweetness.
Mystic Dragon
5.0%
Hard Cider
This apple based cider is infused with green tea, rhubarb, and strawberries to give it a mysterious sweetness while drying it out slightly. Its a perfect compliment to spicy foods.
Pineapple Quilt
8.2%
Imperial Cider
Dry hard cider with pineapple
Strawberry Quilt
8.2%
Imperial Cider
Dry hard cider with strawberries
Slushies
0 - 5%
Alcoholic & Non-Alcoholic
Enjoy one of our rotating slushies to help you cool off this summer.
Bojangles Hard Sweet Tea
5.0%
Hard Sweet Tea
Just like Bojangles Legendary Iced Tea, Bojangles Hard Sweet Tea has that familiar flavor born in the South…kicked up a notch at 5% ABV. Brewed in collaboration with Bojangles.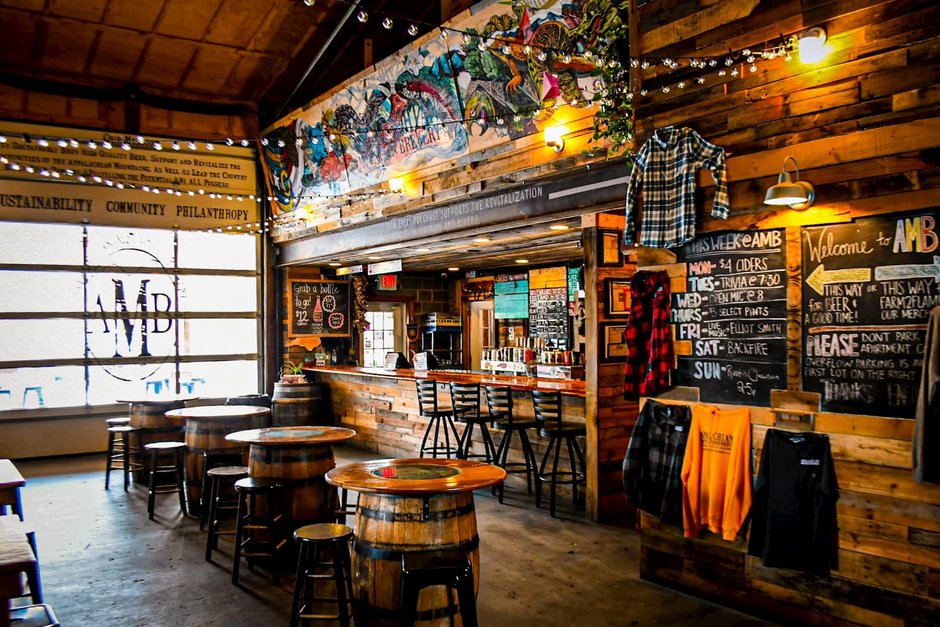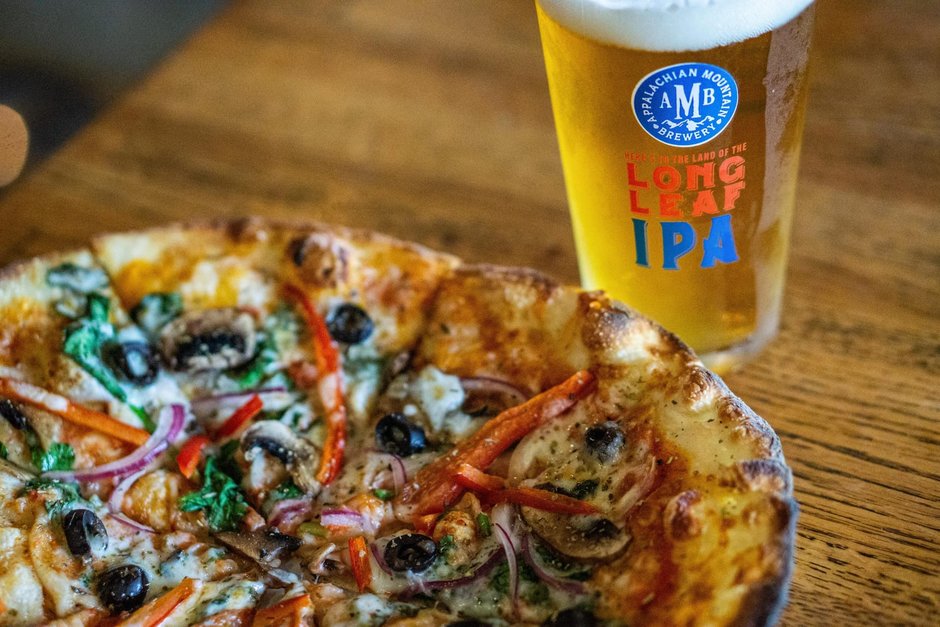 HOURS
Monday: 12:00PM - 10:00PM

Tuesday: 12:00PM - 10:00PM

Wednesday: 12:00PM - 10:00PM

Thursday: 12:00PM - 10:00PM

Friday: 12:00PM - 11:00PM

Saturday: 12:00PM - 11:00PM

Sunday: 11:00AM - 8:00PM